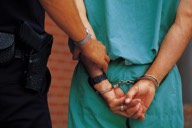 If you, or a loved one, should be so unfortunate as to be accused of a crime, it is important that you are represented by an experienced Criminal Defense Attorney as soon in the process as possible.
Why? At every step, the case against you is prosecuted by professionals. If not represented by an experienced criminal defense attorney, you will be at an immediate and dangerous disadvantage to those working to prosecute and convict you. Without immediate attention, you may unknowingly waive many of your legal rights or defenses.
The time period before arrest or between arrest and arraignment can be critical. Pre-arrest representation can prevent arrest, and early intervention after arrest can mean reduced bond, preservation of defense evidence, and negotiation with prosecutors before formal charges are filed.
As a Jacksonville, Florida Criminal Defense / Criminal Trial Lawyer, admitted to practice in both State and Federal Court, representing both Adult and Juvenile citizens, the Mosca Law Firm, P.A. promises a thoughtfully aggressive defense, personalized attention, and excellent communication with you, the Client.
If you have been contacted by police, arrested, or simply wish to speak to an attorney, call for a free consultation today.